Android App Development Scope in India
With the growing use of the internet, smartphones have gained immense popularity with time. Daily routine tasks are being easily carried out by these smartphones and the applications running in those smartphones. Smartphones act as mini-computer that perform internet browsing. These smartphones make use of a platform called the operating system(OS). Android and iOS are the most common types of OS that smartphones are using nowadays. Android is the most common platform being used in India. More than 80% of smartphones are running on the Android system. Without going to any third party portals the applications running on Android can be easily used as services of business can be easily fulfilled by accessing the applications anytime.
Android is a Linux Based Open-Source
, powerful operating system that is maintained by Google used for touchscreen devices, cellphones, and tablets. The application developers are using Android technology to develop mobile applications that are sold through app stores like Google Play. After being an Android application developer, one can release their own application by submitting it to the Google Play which can be downloaded by smart-mobile phone users.
Android application development is one of the most preferable domain as it is one of the rising industry. The current job market of Android application developers is constantly growing at a rapid pace. Android phones are simpler, secured and smarter phones. Android applications are being used in watches, cars, TV, robotics, medical domain and customizing the digital life of people. The futuristic scope for an Android developer is limitless. The health industry is revolutionized by the android applications to a large extent. Maps on Android are of great use for detecting the location. Android payment and security through face recognition and fingerprint detection are helping people in an effective manner. Android hardware, Android message, Android on television, Android on wearable, Android Auto for automobiles are some of the future advancements for
Android-Based Devices
. The innovation in Android-based applications is at its peak and boom. Android is ruling the world and will continue in the future as well due to its popularity.
Android-based applications can easily operate all types of electronic devices. Google Glass, Li-Fi, Indoor Positioning System, Project ARA, 3D Scanning, Augmented Reality, Multi-Screen Capability, Infrared Remote, Dual Recordings, Adaptive Icons, Advanced Google Assistant are some of the upcoming innovations of Google Android. This is one of the ubiquitous technology which is going to exist in the future for long. The devices day by day is getting smarter so intelligent applications are being developed that adds versatility. Android applications are being used just because of the increasing ratio of android users. E-commerce and various other domains are using Android platforms to distribute services and products to their customers. There is no doubt that Android is still the most dominant mobile OS in the world. Android applications are easily running on countless tablets and smartphones. Android applications have good compatibility as well. Also, the Android programming language is easy to learn. The
Scope of Android-Based Applications
is not only confined to mobile apps development but the Android-based applications are also being utilized by banking, education, gaming, e-commerce sector as well. The adaptable user interface makes smartphones more customized. Android-based applications have a low cost of deployment and a higher return on investment. For the media and entertainment, Android applications are proving to be auspicious.
After raising the demand of mobiles users and increase the procedure of internet over mobiles, with enhance the demand of Smartphone and access of internet over mobiles in India every little and large business require meeting their all viewers on Smartphone's. ITSWS Technologies offer change websites into mobiles sites of any organizations or company.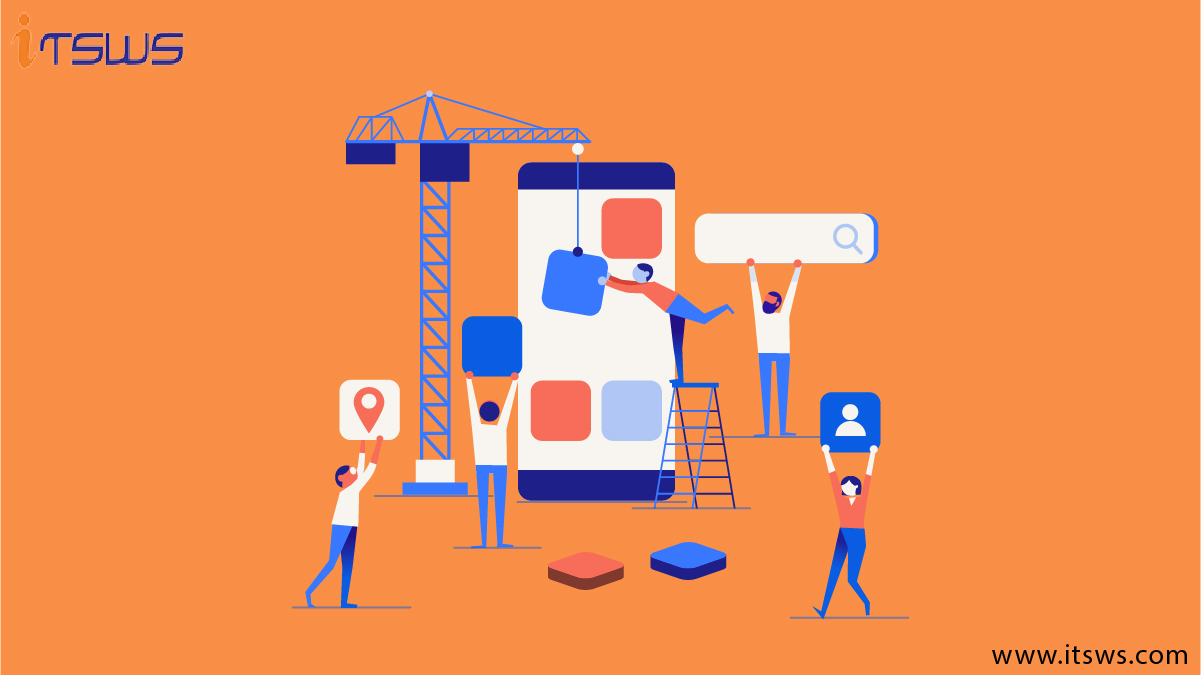 Every company capture their entire website with same functionality in their Apps , but company with limited amount have only build their application only for android Operating System. Because it's broadly used OS and In India more than 80% Smartphone's are running on Android system. You can see all E-Commerce, telecommunication, and lots of other applications with different functionality are arriving into the market because after installing that application users engage with that services business and can access any moment, when they need without going to third part portals.
ANDROID APP DEVELOPMENT IN CAREER
In India lots of great companies like as Flipkart, Snapdeal, Amazon, Paytm are doing businesses with millions of dealings and they always require a large team to administer and adding extra features in their application. India in there are lots of companies whose more that 60% business is depend on Application and they need many Android and other mobile Operating System and every company release their individual android application for capture their services in phone. You also looking forward in this field to be a part of our android training in Gurgaon city and study how to make application for your industry. Better case in point of android application development intensification is initially telecommunication companies like idea, Vodafone, Aircel and others was depend on third party sites like Paytm, MobikWik and Free-recharge after increase the need of mobile recharge through these application every company release their individual Android Application.
So make your future with Android Application development is good option, because it's rising industry and in nearby area. It will capture all the business like web site designing was starting of only being there in end of 19 century. After superior skills of Android application development you may also release your own application which attract lots of user and make your business plan into action through android application development. The current job market of mobile app development, they require for inventive Application developers is huge and still growing.
Android Application Development
can also be taken up as part time job. You can make your own app at home and submit it to the Google Play which can be downloaded by smart-mobile phone users.
Popularity of Android
Android is powering thousands of cellular gadgets day by day. Open source code and licensing helps developers to easily change the code without any restriction on Android. Android applications are easier to develop and do not give too much pain during their development process. A lucrative salary is provided to the skilled Android developers. Also Android has an excellent online community, support groups, and the forums that offer solutions by clarifying doubts and issues of developers anytime. The development tools of Android are quite easy to use. To gain a competitive advantage, the latest technologies and innovative strategies are used by the Android application developers. Mobile phone technology is being revolutionized through the Android and still marching forward. The charges are affordable and negotiable of Android-based smartphones. As Google decided to keep Android open, Android OS targets common people who wish to get maximum functionalities at a low price. Android smartphones usually support all types of SIM while iOS does not support all types of SIM. Various touch gestures such as swiping, pinching, and tapping can be done on Android smartphones in order to manipulate objects on the screen. Android caters to a wider audience. Android has a powerful development framework with which it will continue to have a popularity for many years to come. 85% of the total market share for the mobile operating system is still captured by the Android itself. Swift and rapid innovation in the Android application developing is facilitating a large number of users. Rate of return is higher in Android application development which is increasing its popularity day by day. The software development kit (SDK) includes code for mature apps that ease the development process for the Android developers. The Android development field is accelerating at a faster rate and there is no doubt that Android is the king of all OS. Several businesses are dependent upon the applications running on
Android-Based Smartphones
. So various engineering and technical graduates passing each year opt for Android application development as their career.
ADVANTAGES OF ANDROID :-

•
Android-based applications are more customization and easy to use.
•
Any new publication can be easily done in Android without any formalities.
•
For SMS different messaging application is used.
•
An open platform that can be downloaded, accessed by anyone.
•
There is easy accessibility to the Android App market.
•
Economical and cost-effective.
•
Booming job opportunities most of the time.
•
The massive user base in India and abroad as well.
•
Better hardware performance.
•
Google Play is more user-friendly.
•
More number of application choices.
•
Faster charging options.
•
Removable battery and storage.
•
Effective social networking integration.
•
Support for multiple cameras.
•
Multi-language support.