Future Scope of eCommerce Business In India
Social networking facilitates the easy log-in and purchasing of products. ITSWS is working round the clock with innovativeness for delivery of products with the intention of reducing cost, time and efforts. To easily buying of goods on a single click only Google is working on the "Buy now" option by which after redirection to the new page some options like item details, color, size, the shipping address can be found. The buying and selling of goods online have become quite easy due to e-commerce. E-commerce is the opening door for job seekers by offering them new opportunities. Other than some opportunities, the e-commerce business is still not free from some of the challenges. Internet is the most significant part of e-commerce for carrying all the day-to-day business transactions smoothly. Companies dealing with clothing, machine, electronic gadgets face challenges to advertise products as the buyers examine the goods by touching. E-commerce is more than the buying and selling of goods online.
In fact, India has shown tremendous growth in the e-commerce sector. The emergence of new technologies such as chat-bots, robots, AI has enhanced the shopping experience of customers and has changed the e-commerce business. The elimination of long distances and geographical limitations is possible due to the e-commerce business. E-commerce is increasing day-by-day due to the growing use of the internet. Selling of merchandise over the internet has become so easy that no stress is required while shopping. As the e-commerce industry is flourishing and booming and will continue to evolve as per the expectations. Transfer of goods & services between consumers and online shops is becoming so easy just because of e-commerce. As the purchasing capability of goods & services is increasing day by day in India and the generation is becoming tech-savvy, the aspiration towards the branded products is increasing at a rapid pace. Online stores are facilitating and appealing customers to purchase their products online. In India people of different backgrounds exist and have different living backgrounds like rural, urban, metropolitan cities. So the ratio varies among population and e-commerce has made now its accessibility almost in every dimension.
With a very high user base over 300 million, India has the third-largest internet population just after China and the US. Ease of shopping, easy accessibility to the internet, highly safe and secured payment modes have revolutionized the e-commerce business in a positive direction. New business models are being emerged due to increased use of the internet and e-commerce. The magnitude of e-commerce business is rapidly increasing as it helps to keep the brand a step ahead. In order to prevent time and efforts within a single minute, online booking can be done of the required product by the customer. E-commerce is also showing a significant advantage towards other business segments as well. As consumer loyalty is harder to achieve, e-commerce has contributed a lot in achieving the trust of possible consumers. E-wallets, m-banking, and online card payments have made the payment processes quite flexible. As smartphones are dominating the online market all around the world. The horizon of e-commerce business is expanding at a speedy rate which always focuses to offer a highly customized and user-friendly experience for both the entrepreneur and the consumer. All the risks and challenges are properly addressed and mitigated by our team regarding the e-commerce business.
E-commerce services have a convenient system of delivering goods and work round the clock to fulfill customers needs and expectations without any sort of delay. A person can shop, buy or sell products by sitting at home only. E-commerce is directly linked to business promotions so the online shopping help to create a strong brand image. E-commerce websites give detailed information about the products along with their functionalities, specifications, and images with prices. Thus the customer gets a clear understanding of the product. E-commerce will surely have huge potential growth in sales and promotion. To suit the business requirements ITSWS consider various aspects to deliver effective e-commerce web or app. Also, the online stores have amazing discounts as compared to the offline stores so ultimately customers enjoy the benefit of e-commerce services. The market nowadays is flooded with a variety of e-commerce options.

Social network like Facebook, LinkedIn, Twitter, Google+ etc have a medium for easy log-in and purchase product. ITSWS Technologies have been working innovate the delivery process to condense human effort as well as time. India will be the first country in the world to use of drones for selling product. Google is working on its own "Buy Now" option that would allow e-shoppers seek out for products on Google and buy them with a single click. They will be re-directed to another Google page that will permit them to choose specific item details, color, size and then select a shipping address. Then pass on order information, including the name and shipping address to the seller. Information suggests the future of internet lies in mobiles. Experts say that 582 million people in India will use the Internet by 2019 and 70% of them will admittance the Web on mobile. This will reason to switch to app only model. Flipkart, Snapdeal, Amazon comes from users in small cities village and towns. Flipkart's app-only come up to assume larger significance in these places where the most people don't have own computers and have limited access to internet. E-commerce space gets soaked, investors looking for new use of technology are zeroing in on companies developing artificial intelligence solutions.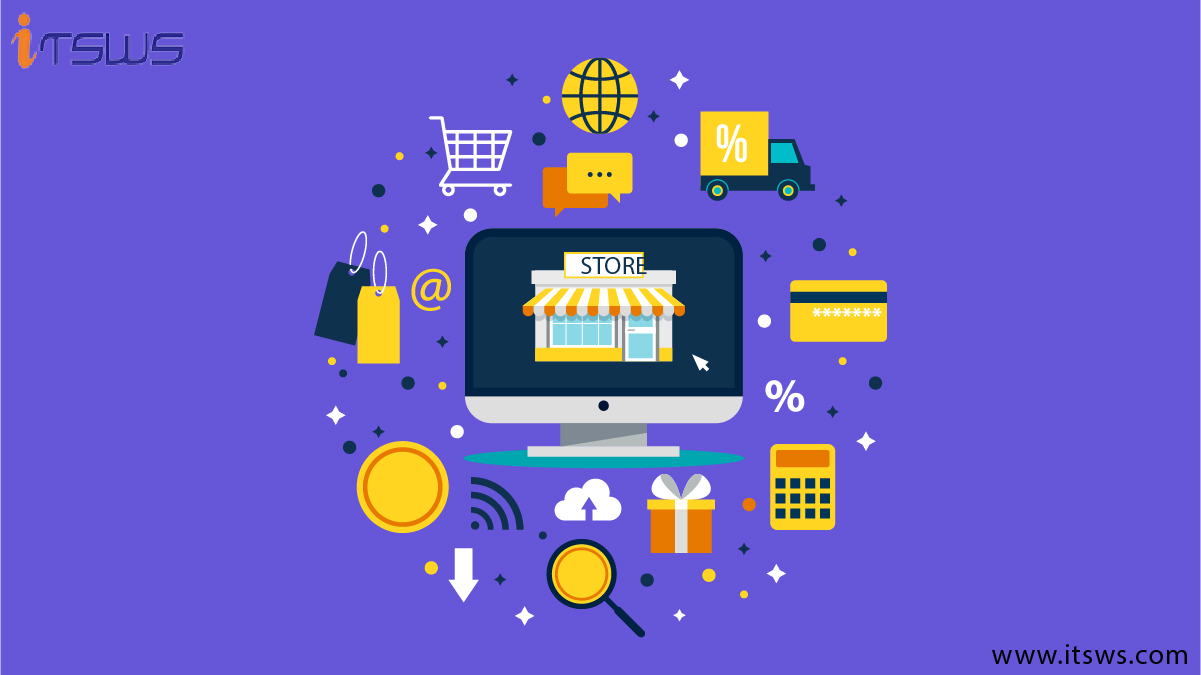 Future Scope of eCommerce Business In India
E Commerce is just buying and selling products online. It includes the online process of developing, marketing, selling and delivering in India has third largest internet population in the world and growing at unprecedented price. In India Cash on Delivery is the preferred buying method, E-commerce creates new opportunities to job seeker. ITSWS Technologies work on e-commerce in India Amazon, Paytm, Flipkart, Snapdeal etc. According to a study conducted by the e-commerce sector is probable to achieve Rs. 211,005 crore by Dec 2016.
E-Commerce Challenges in India
Electronics Commerce, in-spite of the opportunities, presents also has pose positive challenge that's sometimes too much to hold for start-ups. Internet is most significant for e-commerce. Unfortunately, in India internet diffusion is so far bleakly with low at 0.5 per cent of the populace. E-commerce out of attain for the common man. To get people to purchase on an e-Commerce site and involve important cost due to branding and marketing. This cost is important and can be brought down to cost per buyer. Expert speak that the average figure for this metric in the current e-Commerce network is between INR 600 – 7000 consumer. Customers are easier in import products actually. Companies dealing with harvest like clothing, machine, electronic gadgets have to face challenges to advertise their products as the buyers want to examine and touch before they buy this stuff. Indian market in another Tax rate system is factor for lesser expand rate of electronic Commerce in India in association to other urbanized country like United state America. This reason creates accounting harms for the Indian online commerce company.
Scope and future of e-commerce business :-
•

Social media :-

Social media has played a key role in the success of an e-commerce business. Clients can stay updated via the posts published on media. Social media creates a stronger web presence on the web that increases sales thereby promoting e-commerce business. Most of the advertising campaigns take place due to social media websites only. Like and comments buttons add profitability for customers and e-commerce business.
•
Drone delievery :-
To shorten human efforts and time drone are being used to increase e-commerce business. The future of e-commerce business is going to be changed by the use of drones. Drones carry sensing equipment that provides the facility of remote sensing. The issue of guidelines is going to be soon in India for drones that will facilitate e-commerce business.
•
App only Approach :-
App only model is going to be of great use as the future of the internet lies in the mobiles. Mobile technologies are becoming a hub for the customers/ brand engagement creating a holistic experience. App only e-commerce model is proving itself as the best digital solution for business growth over the web.
•
Google's Buy Now Button :-
'Buy Now' style button allow e-shoppers to search for any products on Google and purchasing can be done using single click only. The button offers customization and thus shopping process becomes flexible online. Thus without any headache product can be availed to the customer in less time.
•
Artificial Intelligence :-
Companies are now able to gather and investigate data in real-time thus facilitating competence and efficiency in the business. Machines itself are assisting businesses by performing all routine tasks, payments in a quick manner. Chatbots, CRM, internet of things are changing e-commerce domain. AI is connecting customers together and reducing efforts.