Drupal Website Development Services
Drupal is an open source content management and free framework. It is written in PHP and distributed under General Public License (GNU). It can be used by groups or individuals user, even those lacking technical skills they can easily create and manage any type of websites. Drupal is one of the most used back-end systems. Drupal supports software supports collaborative authoring, newsletters, content management, podcasts, image galleries, peer-to-peer networking, file uploads & downloads and more.
Drupal was originated as a bulletin board system developed by Dries Buytaert in the Netherlands and became an Open Source project in 2001. When establishing his original Website Drop.org, Buytaert wanted to call this site "drop", but made a typo when checking the domain name, and decided the altered form sounded better (Drupal is a transliteration of the Dutch "druppel" which means droplet). Drupal has been downloaded over a million times and is the focus of a great development community.
Our Drupal expert team, develop your services offers loads of solutions for website and much more. The team review and design the website modules as well as redo them in necessary. Our team offers the services to both organizations as well as individuals. They are designing the most effective and efficient application as per your vision.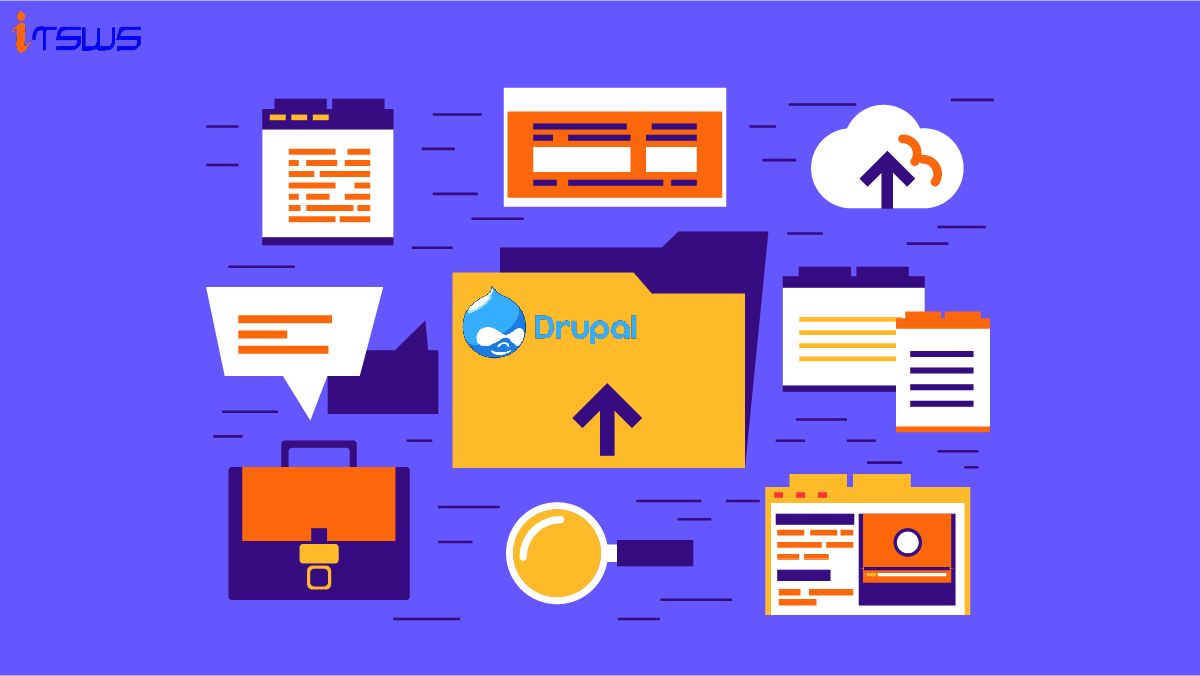 Itsws Technologies is a renowned development company, offers professional Drupal Development service to the various industry with the best support and modular services. We developed extensive customization application as per client's budget. Our professional team developed responsive Drupal supporting mobile applications globally. With the help of Drupal, they provide complete control over the applications and mobile apps. On the SEO perspective, the optimization to mark strong online presence. Our team developed unparalleled security with 100% safe and bug-free code.
Drupal is the most popular and widely used across the globe for highly functional Content Management System (CMS). We are providing the secure way to our clients according to their business needs and developed an innovative application where engage thousand of users in the secured way with the Drupal Solutions.
Our professional team developing Drupal application from small website to large scale portals to increase the customer's engagements around the world. The professional team used Drupal Development with the various types of application like online booking system, dynamic website and search portals. Our team ensures the application running 24*7 and improving user experience with the more engaging elements. The Drupal-based application work with the different systems like CRM, E-mail, and Analytics. It has updated and migrates the existing code easily.
Itsws Technologies builds Drupal solutions based business specific application which has integrated features and perfectly matches your business needs. Our professional development team prepared prefect pre-project plan such as proper analysis, scanning functional specifications, workflow planning, result-oriented design & concepts, user-friendly and client satisfaction application which handling small to big projects properly. The Drupal-based application is extremely reliable, fast, SEO friendly, responsive, mobile optimized and highly secure.
Portfolio of Drupal Website Development Services
Some of the delivered projects of Drupal Website Development Services, that defines our passion and commitment
Drupal Website Development Services From the Blog
Customer Reviews of Drupal Website Development Services