Creative Templates for Mobile Apps
ITSWS Technologies has derived various mobile applications for companies with the help of talented team. The templates for the mobile applications are designed with creativity to make them appealing. The talented manpower of our company puts all their efforts to make effective landing page for every mobile application. The templates designing work is done according to clients requirements so that they may get satisfaction to a good level. Our team understands the value of website, templates, design and mobile applications. The modern era is completely digitalized so everyone nowadays is familiar with the mobile applications that are fulfilling different routine needs. Mobile applications are improving processes of businesses and thereby increasing the accessibility level of customers.

We have derived various mobile apps for popular agencies. All the mobile apps work done by the professional team they develop all the required field and implement templates according to organization requirements. Our professional development and designing team focus on excellent work and prepare best one landing page for every mobile app. The organization has announced and updated all our developer portal on the portfolio. We are always welcome to our new client for the best supportive work according to their requirement. All the point should be derived professionally according to the modern era.
Our team members are experienced professional they understand the value of website, templates, design and mobile apps. The modern era has been converted in digitization, everywhere people are using the smart mobile phone and using various mobile apps. So the value is increasing day by day, as per public demand we fulfill all the requirements of our clients. The templates are perfect for showcasing of your website online and various mobile application. All the designs are modern, clean, fresh, stylish and attractive. The team focus on color combination and make it properly for the users.
Our team are professional and develop many mobile apps for the various online business, all the landing pages are looking beautiful just like other website templates on the various pages. Itsws Tecnnologies is always derived mobile compatible and responsive pages for every business. All the features are professional apply the sharp design, screen resolutions, css based animation etc.
Mobile applications have become a valuable tool for the modern business that is connecting customers with itself to perform business operations. These mobile applications are providing businesses a competitive edge and enhancing the visibility of the brand. Through the mobile applications, customer loyalty is also maintained for long. The promotion of products has become easier for businesses using mobile applications. All the designs of templates for mobile applications look modern, clean, fresh, stylish and attractive. Templates showcase the businesses products on the website online through sharp design, screen resolutions, CSS based animation, etc. Mobile applications have changed the way businesses work.
At their fingertips, users get business information from mobile devices and stay connected with their favorite brands. So effective templates for mobile applications help visitors to understand offerings and benefits. The browsing of products and services of businesses has become easier with the help of mobile applications. Mobile application templates enhance sales to a large extent and boost brand recognition. Mobile applications offer seamless experience & instant access by a tap to customers. Our templates for mobile applications are increasing the level of approachability of customers to the website.
Our templates for mobile applications accelerate the online activities of purchasing products on the web. Mobile applications cuts down the costs and make communication with customers simplified. The standard templates designed by us for mobile applications are compatible ones and these creatively designed templates develop interests in customers. In this competitive world, people use mobile applications in order to stay connected with their favorite brands. Our templates for mobile applications are faster, easier and simple to operate which increases the audience reach to an unmatched level.
Our creative templates offer top-notch services to customers through mobile applications. The templates for mobile applications are designed with the help of latest technologies and techniques. Beautifully crafted templates for the mobile applications help developers in skipping the hassle. Our huge time-saver mobile application templates are very useful for businesses to promote their brands effectively in the market. The professional templates created by us provides the best ever online interface for visitors. Our templates offer a great user interface experience to the audience and the skilled graphic designers design highly customizable templates that soothes visitors to a great extent.
Our versatile mobile templates are well equipped with font-awesome icons, eye-catching animated hover effects, minimal & modern design along with responsive google fonts. The stunning templates are featured with the excellent loading speed, cross-browser compatibility, SEO optimization, and flexibility. To maintain the online presence of customers our technical team works in a very professional manner and adheres to all designing principles. These templates give a vibrant look to the website running on mobile platforms. Our beautifully tailored designs of templates make them appealing and interesting for the audience. The minimalistic aesthetic templates for mobile applications give opportunities for businesses to gain competitive advantage and thereby helping them to boost sales and output.
Our mobile application templates help customers to boost productivity and inspirations to a great extent and develop their interest in the business products on the website. As there is a lot of pain in building a mobile application from scratch and along with that it is a time-consuming process. So well-built mobile application templates make the development process easier and faster. Templates play an important role in making a website fully-functional and the success of a business website depends on how appealing templates look on the website. Our creative templates for mobile applications have functionalities like filters, tonal adjustments, cropping, resizing as well as the integration of text/video.
Businesses not having mobile applications may lag behind competitors and can also miss the opportunity to attract potential clients. The world has shifted from desktops to smartphones and the people buy, review or sell products using these mobile applications. Our easily customizable templates for mobile applications provide one-stop solutions for customers. Mobile templates created by our team make the business process easier as visitors can reliably locate the required information by easy to use navigations. Mobile applications are indeed a valuable asset for businesses to reach large audience. Through these mobile applications businesses are connected socially together and performing various routine activities. Our team stays tuned to the latest technologies and adopts that according to business and customer's needs.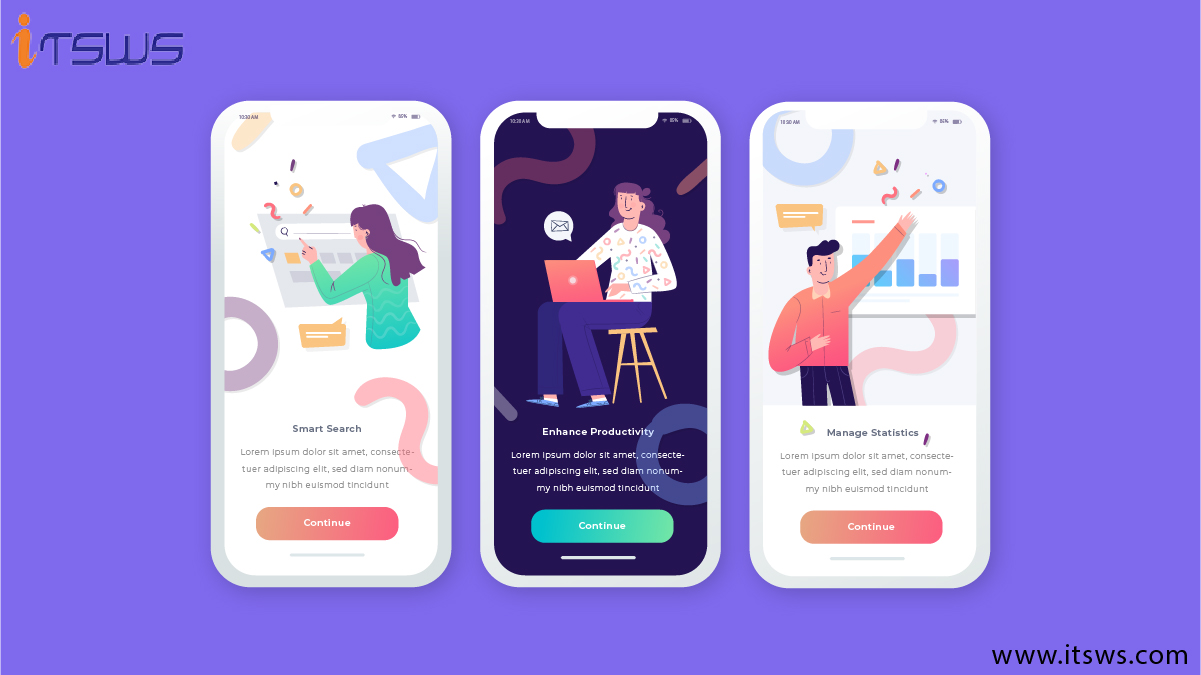 People nowadays are preferring doing businesses with mobile applications instead of mobile websites as mobile apps are engaging, personalized, convenient, specific and easier to browse. Our creative and stunning templates give the opportunity for businesses to grow the brand exponentially and increase a positive brand reputation as well. The templates designed by our designers represent the brand value in an eye-catching way and help to retain customers for a long time on the site. Our templates are well-organized and have a specialized set of features that enhance profitability for businesses. The creative templates showcase the mobile applications in an easy way which gives a confident and refreshing appeal to visitors.
Our functional templates for mobile applications are designed according to some quality standards. The templates designed by us are packed with sliding menus, WordPress and drupal integration, product catalogs, push notifications, news, maps, and social media features. The cross-platform compatible templates look great on every platform. Mobile applications are opening new business dimensions and opportunities as well. Businesses make their efforts day and night to strengthen their brand online and to attract maximum customers to their site.

For best mobile apps, you can contact us on website www.itsws.com. We hope that you will be satisfied with our cost-effective work and responsive portal.